Attention, Freedom Seekers!
You can travel & live abroad while financially supporting yourself by teaching English online.
Does This Sound Familiar?
It's 9:00 am on Monday, the start of yet another long work week.
You try to stay focused but you can't help but daydream about being somewhere else.
You could be sitting on a beach in Bali. You could be hiking in Patagonia. You could be sitting in a cafe in Italy, sipping the most delicious cappuccino.
Anywhere but at your job.
Your two weeks of annual vacation always seem to disappear to family holidays, weddings, and reunions.
You can't travel to the other side of the world when you only have a few days to enjoy it. By the time you're recovered from the jet lag, it's time to leave again.
Wouldn't it be nice to do all that and travel to new destinations?
If you continue to work in a full-time job, you'll miss out on a lot of travel experiences.
You can keep kicking the can down the road but you may never make it to the end of that road.
How long do you even have until you can retire? 20, 30, 40 years?
Do you really think you'll want to party in the streets of Brazil for Carnaval when you're 70?
Will your body be able to handle, much less enjoy a 5-day hike on the Inca Trail?
Those are the options you face if you wait until retirement to travel.
Don't you wish there was a way to start making a decent income online where you can set your own schedule and be able to travel?
Teaching English online is the way.
If you:
are tired of living your life on someone else's schedule,

are tired of working for the weekend,

want to travel more often and for longer periods of time and you're sick of having to ask someone for permission to do that,

need a way to pay the bills while building your lifestyle business,

really want to be able to work when and where you want and for how long you want,

don't even want to enter the rat race,

and think you'd be great at teaching English online,
then Teaching for Freedom is going to change your life.
Here's why......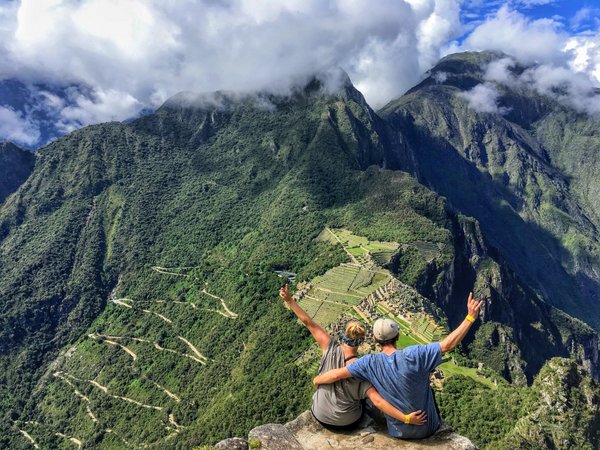 Visiting Machu Picchu was the culmination of 7 months in South America. It was glorious!
The best part? We were earning money throughout the entire trip by teaching English online.
We Were Once In Your Shoes
A few years ago, we were living in Beijing in a nice apartment, with cushy jobs teaching English in a corporate training center, and a high quality of life.
But there was something missing.
We got to travel but it was never for long enough.
Our schedules were somewhat flexible but taking extra time off required getting another teacher to cover our shifts which was always stressful and never guaranteed.
The first time we went to Bali, we, like everyone else, fell in love and didn't want to leave.
Our conversation on the last day of that vacation went something like this:
"I don't want to leave. Why do we have to leave?"
"Because we have jobs and a nice apartment in Beijing."
"What if we didn't have those things?"

And that's where the idea was born.
We wanted to become digital nomads before it was even a thing.
Maybe you've had this very conversation before!
A year later we quit our cushy teaching jobs, gave up our nice apartment, and hit the road with just our backpacks.
For 14 months we traveled to dream destinations and stayed for as long as we wanted.
That freedom is addictive.
We went to Bali a second time and got to stay longer and even explore other islands of Indonesia.
But we eventually ran out of money. So we headed back to China, this time to Kunming, and found new teaching jobs.
We thought we would be okay with settling down again but we weren't.
It wasn't long before we were planning our next trip but with the added stress of asking a boss for time off.
We knew there had to be a better way to stay on the road so we put our heads down and got to work finding a solution.
That's when I found the world of online English teaching. I applied and got the job!
Teaching English online changed everything!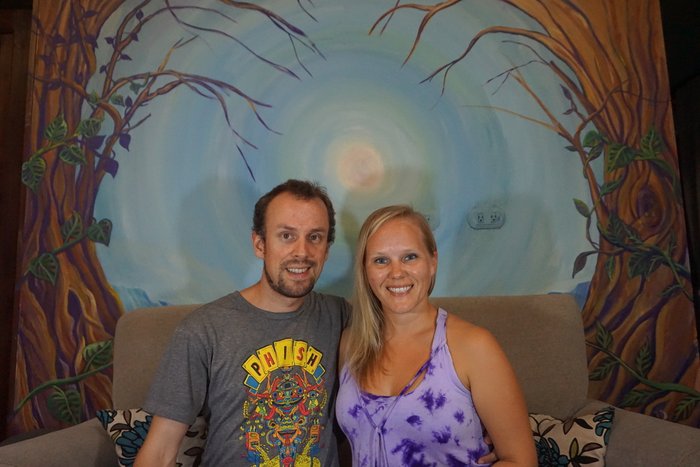 Hi! We're Rachel & Sasha
We are the couple behind the popular travel blog, Grateful Gypsies!
Since 2016, we've traveled to countless places in Mexico and set up a temporary base in beautiful Puerto Vallarta.
We spent 7 months backpacking in South America, enjoying bucket list experiences such as beach lounging with sea lions in the Galapagos Islands, trekking to breathtaking views in Patagonia, and staring at our reflection in the flooded Salt Flats of Bolivia.
We've experienced destination concerts and music festivals with our favorite bands (our passion in life) in Costa Rica and Tulum, Mexico....
All thanks to teaching English online!
With the help of this course, you can have this lifestyle of travel, too.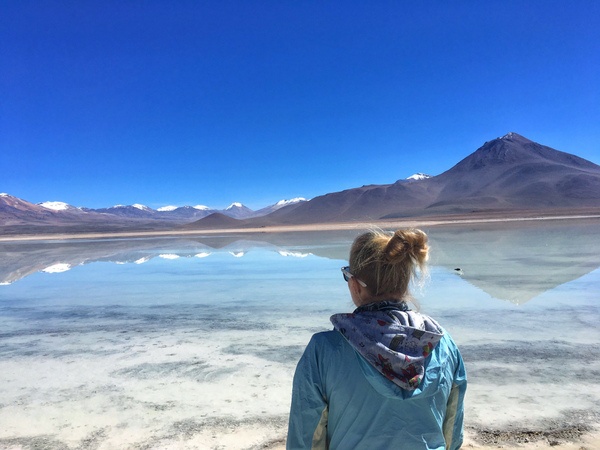 Wouldn't you love to travel and see other-worldly landscapes like this one when YOU feel like it?
This is me seeing Bolivia for the first time. Truly breathtaking.
Teaching for Freedom Will Help You Jump-Start Your Location Independent Lifestyle
Imagine....
having more free time for your passions,

being able to travel when you feel like it. No need to ask a boss (or anyone else) for permission,

hitting the road with no end in sight,

having peace of mind knowing you have a reliable way to earn money while you travel.
We've coached several people through the process to achieve the same lifestyle.

Even if you don't know anything about teaching, even if you're not a native English speaker, and even if you don't have a Bachelor's degree, you can teaching English online!
This can be you!
This is Freddi
Freddi has been traveling as a backpacker for quite a while now. He was starting to run out of money and the only option he could see was going home and getting a job.
But he didn't like the sound of that.....at all.
So he started looking into ways to make money online so he could keep traveling.
That's when he learned about the whole idea of location independence and being able to earn money from anywhere in the world.
Fast forward to finishing Teaching for Freedom, Freddi sent me this really nice message: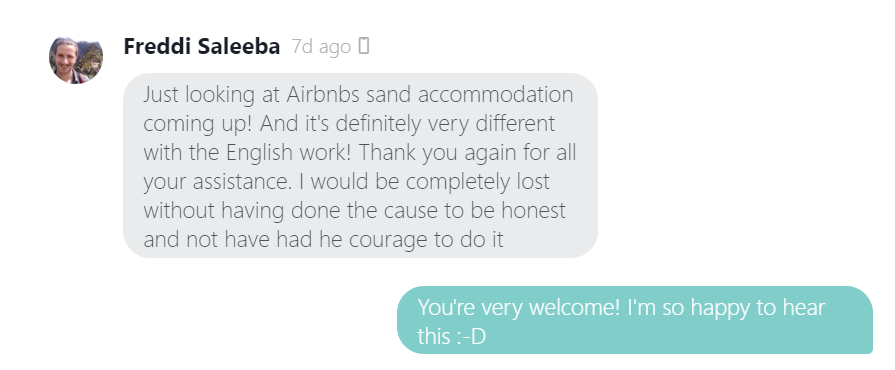 Listen to Freddi talk about his journey in the video:

"I recently completed Rachel's course 'Teaching for Freedom.' The course got me from zero knowledge of teaching English and the online teaching world, to helping me prepare and find a company that suited me. Now, I am working for DaDa and I am able to teach English no matter where I am. And that is perfect for me, as I am not a fan of staying in one place for too long. There's too many amazing places out in the world to see! Thank you Rachel!!!"
- Fred Saleeba, Founder, Curious Emu Podcast
This is Adam
Adam had the same problem as us.
He was traveling around and loving the freedom of not having a job to return to, but he ran out of money.
He went home to the States to figure something out.
That's when he contacted us.
Adam didn't know anything about teaching online and wasn't sure, like you may be, about if he could do it.
He wondered if he had what it took to teach, and we showed him by answering all his questions, giving him tips on how to ace his demo and mock classes, and easing all his fears of traveling full-time.
Here's his story: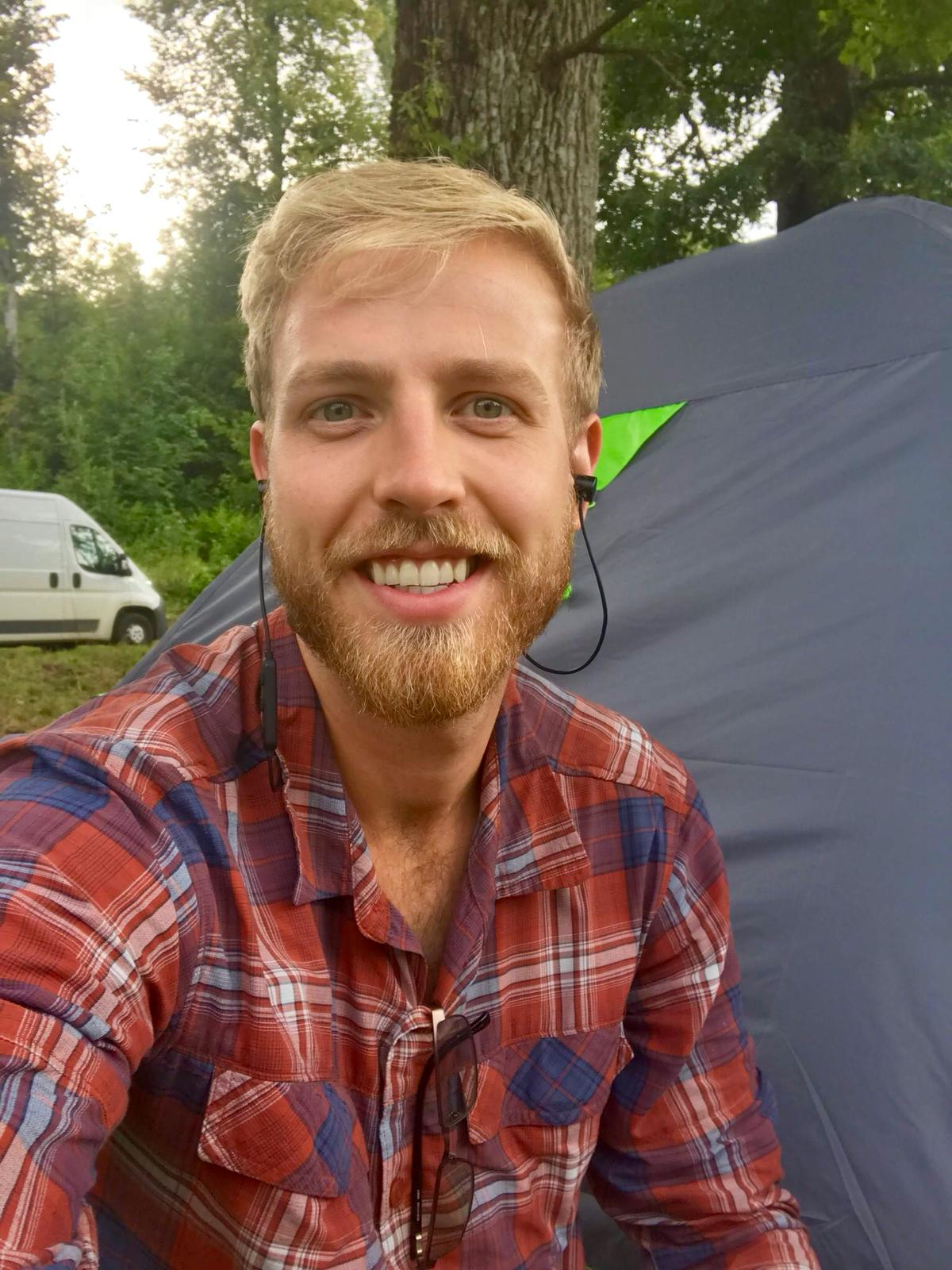 "I was at a point in my life where I was looking for more freedom, flexibility, and convenience. I was hoping to travel the world before I got to old but was struggling to imagine long-term travel without a source of income or something to occupy me for a few hours a day. Lucky for me, I was introduced to Rachel - she opened my eyes to new opportunities to integrate work and life through TEFL!
Seriously, without hesitation, she made time and continues to make time to hop on a video call and give me advice, guidance, and her personal wisdom about TEFL. I even saved $150 on my comprehensive TEFL certification thanks to her! Within a matter of 3 months, I had my TEFL certification, was interviewing with top reviewed online TEFL platforms. Today, I'm couchsurfing through Europe and teaching for a few hours day and to be honest, absolutely loving this balance of teaching, earning, and exploration.
To top it off, when I was wondering about global health insurance, I thought of Rachel and again, she came through with experience and advice!
Thanks Rachel! Best of luck continuing to live your dream and thank you for supporting mine!"
- Adam Crompton, Founder, Pursuit of Better

"Thank you Rachel for introducing me to Vipkid and the online English teaching world! I never thought I would ever love teaching young children, but it is so much fun! Your course was amazing because all my questions were answered right there, and it gave me the tools to get hired and jump right in without too much stress. I'm also excited to say, I now have a job that I can take on the road with me to fund my travels while I build up an online business. Thank you so much for making my "teaching career" fast, stress free, and more profitable!! Here I come world!! Thank you!"

- Teacher Allison Bradshaw

"I recently decided to make a big move south of the border from San Diego, CA. I did not know what I was going to do when I arrived in Mexico, but knew it was for me. That was, until I was connected with Rachel and her husband at Teaching for Freedom!
She helped me through the entire process of becoming a ESL teacher online to Chinese students on the other side of the world. Having only minimal background in teaching (let's be clear, I was a nanny/babysitter for 10 years and simply tutored kids on their homework) she helped me understand the application process and everything that went into teaching young students how to speak English.
I had no idea what to expect, but I was quickly accepted to my program and before I knew it, sitting in front of a computer screen with a 5 year old Chinese boy on the other end looking to me for English teaching!
The entire concept was so foreign to me when I began, but through Rachel's guidance I was able to feel comfortable through my first class. And now, I have the ability to work 2-4 hours a day, first thing in the morning and use the rest of my free time for whatever I want! I have been able to get back into surfing and art, two things that fell by the wayside during my busy hustle and bustle lifestyle in America.
The freedom, pun intended, I have been so lucky to experience with this new endeavor in my life is unbelievable. And the best part is, as long as I have a steady internet connection I can do my job from anywhere in the entire world!
Teaching for Freedom has been one of the best things to happen to me and I can not urge people enough to join the online teaching platform and live a life they have always wanted!"
- Taylor O'Doherty
You see, I realized that this was a path anyone could take to achieve time freedom, but most people have no idea that it's even an option.
That's why we made this course!
The companies we recommend and teach you about in this course make all the lesson plans for you.
All you need to do is familiarize yourself with them and deliver them to the students using online teaching techniques.
Don't know what those techniques are? We teach you those, too!
I'm so very excited to get you started on the path to more FREEDOM!

"I just finished your course and I wanted to extend my gratitude for the invaluable information and insight that you shared.. It has definitely made the idea of teaching English online much less intimidating and I feel that I now have some real action items that I can begin working on immediately! I appreciate all of the hard work you put into your videos!"
- Jake Bartosch

"Enrolling in the Teaching for Freedom course helped me pass my VIPKID interview with confidence! The parts on Nailing Your Interview and Taking Your Online Teaching Job On The Road were especially helpful. I loved how the course was presented - easy to digest videos filled with useful tips that were very engaging. I highly recommend this course to anyone who's looking to take up an online teaching job and travel at the same time."
- Yien Ping Soew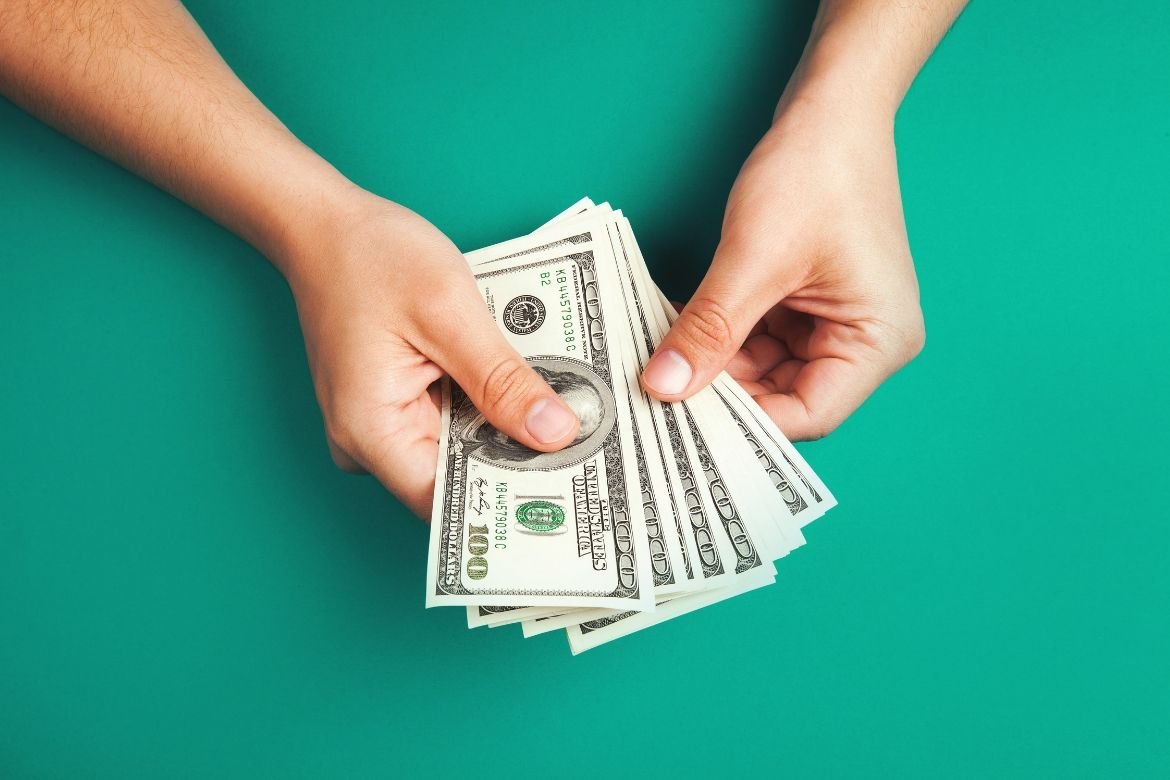 You may be wondering "But how much can I really earn teaching English online?"
Let's Talk Numbers
What can you do with the money you earn teaching English Online?
You can treat this as a side hustle, a part-time job, or even a full-time gig if you really want.

To give you an idea of what your schedule could look like and your potential earnings, here are a few examples.

I'll use VIPKID, since that's our primary online teaching job, our current time zone (US Central time), and an average starting pay rate of $8/class.

SIDE HUSTLE

Say you're already pretty busy and you can only dedicate 2 hours to teaching online, three times a week. Perhaps you work 6-8 AM on Monday, Wednesday, and Friday before your "real" job.
That's 45-50 classes depending on the month, which qualifies you for $1/class bonus that VIPKID offers. You also get an extra $1 for each class that's finished as scheduled, bumping your pay to $10/class.

That earns you $450-$500 a month by just working six hours a week!
You can still make it to your day job in time, start building up a stable of regular students, and earn some decent extra cash in the process.

What can you do with an extra $500 per month?
Buy tickets for a weekend-long music festival

Book a round-trip flight to someplace exotic (because you know how to find sweet deals!)

Upgrade your travel gear by getting a new backpack, e-reader, camera, etc.
Sounds pretty awesome, right?!
PART-TIME JOB
Maybe you're more like us and you want to use teaching English online as a part-time job.
This is perfect if you are working on another passion project.
Our passion projects are freelance writing and building up our own website. We typically teach anywhere from 15-20 hours a week.

Our schedule is usually 6:00 - 9:00 AM Monday-Friday with an extra shift on either Friday night or Saturday morning.
Remember, one of the best things about teaching online is flexibility to change your schedule.

You can earn $1500 - $2000 with this schedule!

That amount of money goes a long way in places like South America or Southeast Asia.
We've been living comfortably in Puerto Vallarta, Mexico and have also traveled extensively around Latin America using teaching English online as our primary source of income.

Perhaps you're not quite ready to hit the road yet, and that's fine!
Just ponder what that money can get you in your future travels...

A month-long stay in a private villa with a pool in Bali

Round-trip flights to the other side of the world

Getting scuba certified and spending a week diving in Thailand

Traveling to Peru to hike to Machu Picchu
Best of all, once you're finally ready to take the show on the road, you'll already have a loyal following of students who will keep your schedule full and allow you to smoothly transition into digital nomad life!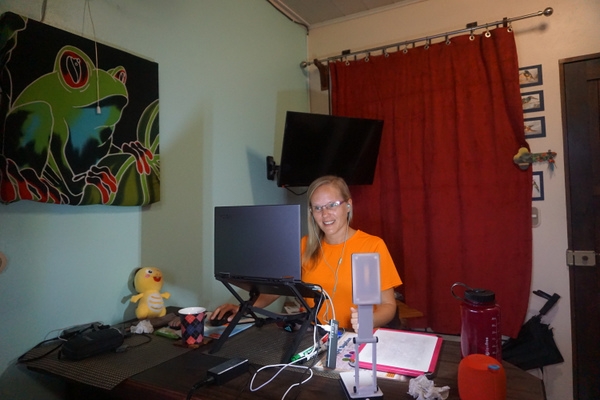 Teaching in Costa Rica
Here's Exactly What You'll Get
Our signature 5-part video course teaching you how to:
Identify your existing teaching experience that qualifies you for teaching English online
Refine your skills and learn all the teaching techniques you need to nail your interview
Get Hired for the best online English teaching jobs with in-depth information on the best companies and their hiring process
Maximize your earnings
and Travel with your online teaching job.
But wait! There's more!
Registering for Teaching For Freedom will not only get you access to all 5 modules with video tutorials, but you'll also get these bonuses, fo' free:
Bonus #1: The "Wander-Planning Technique" - our strategy to maximize your travel fun AND earn great money at the same time ($197 value)
Bonus #2: "Digital Nomad Jobs You Can Start Right Now" Mini Course - Learn about the other jobs you can start doing right now to earn more money and learn new skills you can charge others for ($147 value)
Bonus #3: Demo Video Critique - I will critique your demo video so you can nail your interview on the first try ($97 value)
Course Curriculum
Welcome!
Available in days
days after you enroll
1. Identify
Available in days
days after you enroll
Buying this course will buy you more time to do the things you've always wanted.

Leaving a comfortable job and home for the unknown is terrifying.
I know, that's how I felt when we first left Beijing.
But we are proof that this lifestyle is possible thanks to teaching English online. We've achieved it and we've helped others achieve it.
Time is Finite. It's the one thing you can't get back.
You can always make more money, but you can't make more time.
You can do it if you let us help!
Frequently Asked Questions
How long do I have access to the course?
How does forever sound? After enrolling, you have unlimited access to this course for as long as you like - across any and all devices you own. This is a living course that we will continue to update and you'll be notified when we add something new.
What if I am unhappy with the course?
That's the last thing we want! We totally understand that this isn't an investment to be taken lightly. We want you to be able to try it risk-free. If you don't like it, then just e-mail us within 30 days of purchase and we'll give you all your money back.
What if it doesn't work for me?
You can try it risk-free! I strongly believe that if you work through the course and implement our strategies that you will attain the life of freedom you've always wanted. But if you really don't get the desired results, you can hit me up within 30 days for a full refund.
What makes this different from other courses?
My course is one of a kind! This is the only online course that shows you real strategies to maximize your earnings teaching English online so you can combine it with more travel, living abroad, or have a steady income while you work on other projects.
What if I don't have much time to spend on it right now?
You're busy and I totally get that! That's why you get immediate access and fully self-paced so it'll be there when you're ready for it.
Will it be a good fit for me?
If you are ready to take action and make that lifestyle change you've always wanted, then yes. But if you're not an action taker and you'd rather stick with the status quo, then no.
Can't I find this information for free online?
You can find just about anything for free online. You could search for information about the online teaching jobs but it would take you HOURS to sift through all the information to figure out if these jobs are legit, which ones are flexible enough for traveling (there are lots out there that are not), and which ones teachers truly enjoying doing. Some companies treat their teachers poorly. You won't find them in this course. I've already done the leg work and made myself an expert. I've taken what I learned and packaged all that information for you in one place, saving you tons of time. But do you want to know what truly makes this course one of a kind? Our strategies to maximize your earnings and make a travel lifestyle work as an online teacher. You can't find that information anywhere online.
This course would be a big investment for me. Is it really worth the price?
How much would it be worth to you to take a trip to your dream destination at the drop of a hat simply because you found an amazing flight deal? How much would it be worth it for you to devote more time to the things you're passionate about without feeling guilty? How much would it be worth it to finally start building that lifestyle business you've always wanted? The key word here is "investment." I'm certain you'll recover the cost of the course after your first full week as an online teacher, at which point you'll be well on your way to having that FREEDOM!

"The course has been great, Rachel. I've found it really useful and now, thanks to your good advice, I can start to plan my career as an online teacher. I feel really excited about it :) You're very nice and cheerful, so I'm sure your students love you. Thanks a lot for your help!"
- Nuria Gomez Pardo
The time is now.
This is your chance to take back your time and do whatever you want with it.
No longer on someone else's schedule. No longer limited to a few short vacations a year.
Will you go for it? Will you take action?
Click that big orange button below!