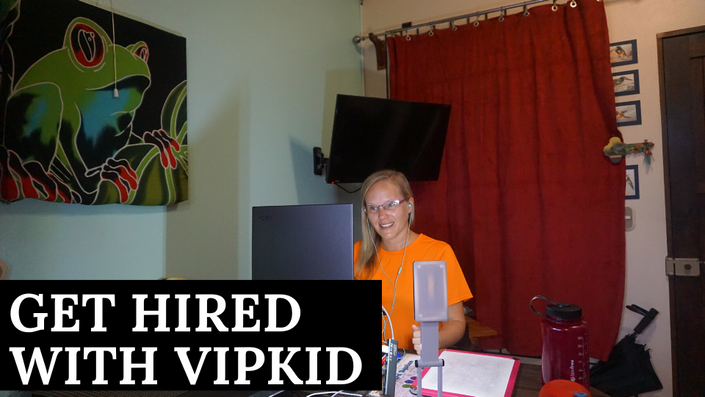 Get Hired with VIPKID
Everything You Need to Teach Online with VIPKID
Attention, Aspiring VIPKID Teacher!
You can earn a solid income online teaching with VIPKID and this course will show you how.

Dear Teacher,
Imagine working from home on your own time and being able to spend more time with your family while still providing financially.
Think about what it would be like to take a vacation whenever you feel like it without having to ask a boss for time off.
Wouldn't that be amazing?!
VIPKID provides that kind of flexibility and time freedom.
I created this course to teach you everything you need to know to get hired with VIPKID.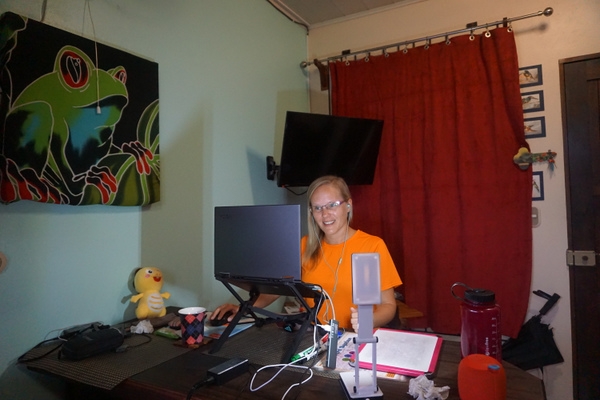 Teaching VIPKID in Costa Rica
My Journey to Becoming a VIPKID Teacher
Because of my love for music (and degree in Music Industry Studies) Sasha and I tried to move to Nashville in 2009.
We lived in a friend's attic. We searched for jobs for six months. Not a nibble. We scraped by on food stamps. Then, our house and car were robbed. It was miserable. Everything that could've gone wrong, did go wrong.
So we bought one-way flights to Beijing, China to try teaching ESL (English as a second language). As it turned out, I really enjoyed teaching and actually excelled at it....something I would have never imagined just a few years before.
But after many short trips, the desire to travel for longer periods of time became stronger and stronger.
I had heard about teaching online and had reached out to a few companies but hadn't heard anything back.
Finally, in spring 2016, I saw an ad for VIPKID from someone in a Facebook group. I read up on what they offered and though it sounded too good to be true. But I was qualified so I sent in my application.
The next morning, I had an email inviting me to an interview! I went through the process and about 2 weeks later, I was teaching cute little Chinese kids through a computer screen.
Once I successfully completed my first contract, I signed on for a second six months and Sasha also applied and got the job!
Now, 3 years later, we've been able to live in Mexico and travel when and where we want without having to ask a boss for permission thanks to their flexible schedule.
I can help you do the same. I have successfully coached several people through the process.
That's why I made this course, to give the same tips I've given to all my successful referrals.

"I recently decided to make a big move south of the border from San Diego, CA. I did not know what I was going to do when I arrived in Mexico, but knew it was for me. That was, until I was connected with Rachel and her husband at Get Hired with VIPKID!
She helped me through the entire process of becoming a ESL teacher online to Chinese students on the other side of the world. Having only minimal background in teaching (let's be clear, I was a nanny/babysitter for 10 years and simply tutored kids on their homework) she helped me understand the application process and everything that went into teaching young students how to speak English.
I had no idea what to expect, but I was quickly accepted to VIPKID and before I knew it, sitting in front of a computer screen with a 5 year old Chinese boy on the other end looking to me for English teaching!
The entire concept was so foreign to me when I began, but through Rachel's guidance I was able to feel comfortable through my first class. And now, I have the ability to work 2-4 hours a day, first thing in the morning and use the rest of my free time for whatever I want! I have been able to get back into surfing and art, two things that fell by the wayside during my busy hustle and bustle lifestyle in America.
The freedom I have been so lucky to experience with this new endeavor in my life is unbelievable. And the best part is, as long as I have a steady internet connection I can do my job from anywhere in the entire world! Teaching for Freedom has been one of the best things to happen to me and I can not urge people enough to join the online teaching platform and live a life they have always wanted!"
- Taylor O'Doherty

"Rachel's Get Hired for VIPKID course was very helpful during the process of going through mock classes. She gave lots of detailed advice and tips that I wasn't able to find in other videos. Many of the tips she gave were mentioned by my mock class mentors and I was glad I knew about them ahead of time. Her videos helped me understand the difference between the lower level and upper level mock classes. Rachel was also available to email or talk to me when ever I had a questions, which was often! She was so supportive and helpful! I am so glad I had her help through the process!"
- Heather Montano
Here's What You Need to Know About VIPKID
VIPKID is a Beijing-based online English teaching company, paving the way for online language learning. Started in 2013, it has grown exponentially over the past few years.

They have become so popular that many investors are lining up to chip in. Even Kobe Bryant has invested heavily in VIPKID.

VIPKID's mission is to provide children in China an American elementary school education. Their one-on-one immersive program is based on the US's Common Core State Standards curriculum. Children from the ages of 5-12 years old are able to have classes with a native English speaker without having to leave the comfort of their home.
They use a flipped classroom method that has been proven to increase student's understanding as well as foster critical thinking skills. As people who used to teach in China, we know critical thinking is rarely taught in Chinese schools.

VIPKID is becoming more and more popular. They have had write-ups by multiple news organizations and they were ranked Forbes #1 work from home job in 2018!

Furthermore, VIPKID is planning to expand into 100 countries over the next few years and they've announced 4 new product lines set to launch in the near future.

It's not too late to apply with VIPKID. In fact, there's never been a better time!
VIPKID Requirements:
American or Canadian or legally able to work in one of these countries
Bachelor's Degree in anything
A school year of experience teaching or working with children
A TEFL Certification will be required as of March 2019 if you don't have a teaching certificate from a university (They have a free course you can take if you get hired!)
As long as you meet these requirements, then you can get hired with VIPKID.
If you apply through my referral link, I'll give you a 50% discount off the total price of the course.
Click here to do that now. My referral code is RACHE0006 but you shouldn't need it if you click the link above.
In the initial application stage, you need to manually fill in your relevant experience. This is where you put anything that has to do with being around young people. It can be babysitting, tutoring, teaching swimming lessons, homeschooling, summer camp counselor, etc. That all counts as teaching experience.
Make sure you use any variation of the word "teach" when you're entering that information.
And most importantly, make sure it matches the required amount of time (a school year = 9 months).
Your Instructor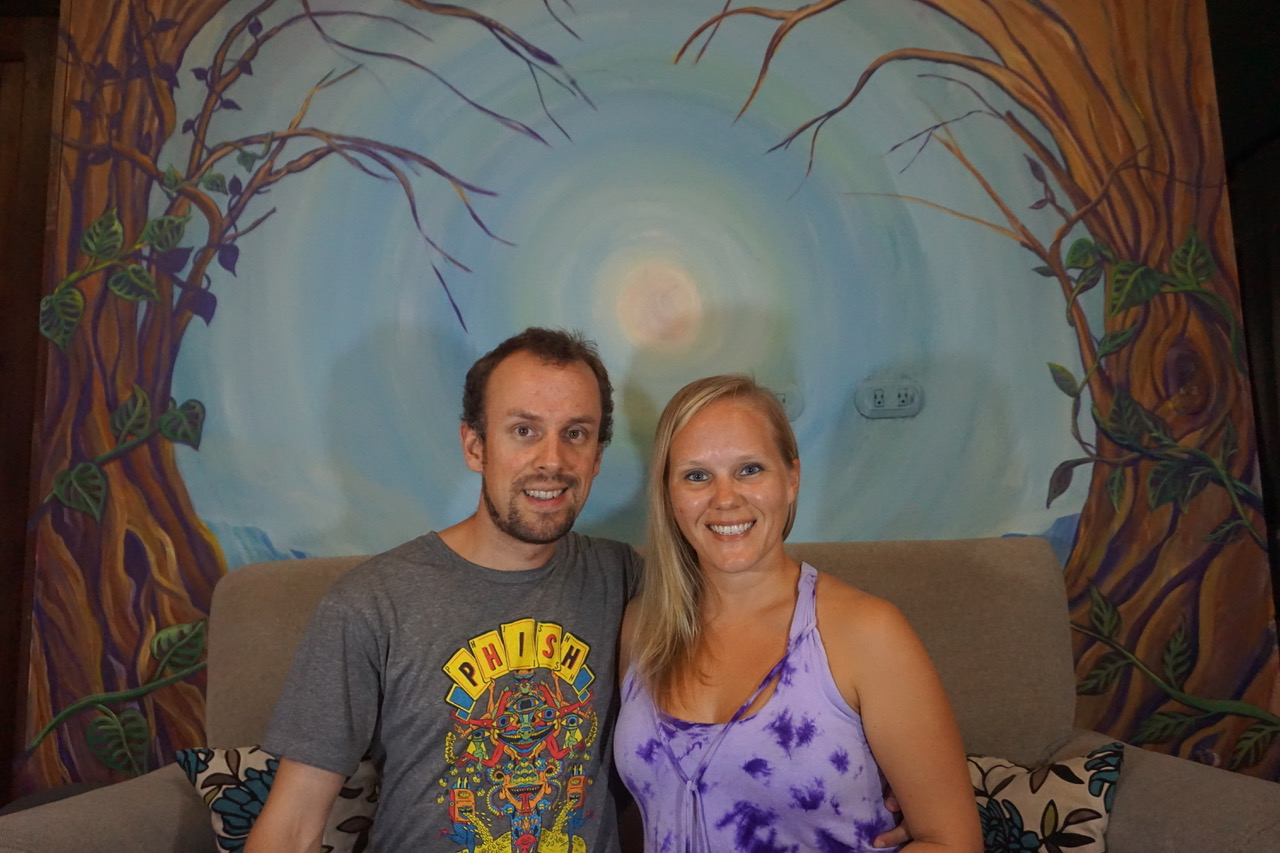 Rachel and Sasha are the couple behind Grateful Gypsies. They've been living abroad and traveling the world together since 2010 when they moved to China to teach English. After nearly six years of teaching in China, they started teaching English online. Since then, they've enjoyed a life of location independence, having the freedom to travel and live where they please.
Here's What You'll Get in the Course:
Detailed videos on how to do all the teaching techniques they look for
A video with tips on acing the interview and demo
A video with tips for passing the lower level mock class
A video with tips for passing the upper level mock class
You can check out the course curriculum below:
Course Curriculum
Welcome!
Available in days
days after you enroll
Filling Out the VIPKID Application
Available in days
days after you enroll
Nail Your Interview
Available in days
days after you enroll
Frequently Asked Questions
When does the course start and finish?
The course starts now and never ends! It is a completely self-paced online course - you decide when you start and when you finish.
How long do I have access to the course?
How does lifetime access sound? After enrolling, you have unlimited access to this course for as long as you like - across any and all devices you own.
What if I am unhappy with the course?
I am confident that if you follow my advice in this course that you will get hired with VIPKID. If you watch all the videos and are rejected by VIPKID, send me an email at
[email protected]
I will work with you one-on-one to see if we can find a solution and get you hired. If that still doesn't work, I'll give you a refund.
Who is this course for?
This course is for people who meet the requirements set forth by VIPKID. If you do not meet those requirements, this is not the course for you.
Why are you charging me for this? Don't you get a referral bonus if I get hired?
Yes, I do get a referral bonus if you get hired but you have to successfully teach a class before that happens. I've spent lots of time helping people through the entire process only for them to never teach a class, meaning I gave up all that time for nothing. People who invest money in something take it much more seriously because now they've got skin in the game. I'm certain that if you follow my advice that you will get hired. As I said above, if you apply through my link, I'll send you a discount code for 50% off the total price which is a bargain for all the insider tips you'll find in the course. Once you're an official VIPKID teacher, you'll also have your own referral link and can easily get back more than your investment in this course when you get a referral successfully through the process.
This is your opportunity to work from home or work from the road while living a location independent lifestyle.
You can do it, and we can get you there!
Click that big orange button below!
This course is closed for enrollment.